Long-Term Care Prescription Solutions
We make it easy for residents of assisted living facilities, adult care homes, behavioral health homes, and other group-style residential settings to adhere to their medication. We provide a full range of long-term care services to help patients succeed in their healthcare journey. We understand that each patient has unique requirements and to meet these needs, we develop customized plans to help insure the most effective pharmacy care. Our core values set us apart from standard long-term care pharmacy providers. We do our part with care and compassion for the client. ClearSpring views every patient as important, no matter the size of facility.
Long-Term Care Pharmacy Services
ClearSpring provides a full range of Long-Term Care Pharmacy Services including:
Specialized Packaging
Dispensing Training Services
Staff Focused Education Programs
Billing Specialist Support
QA Support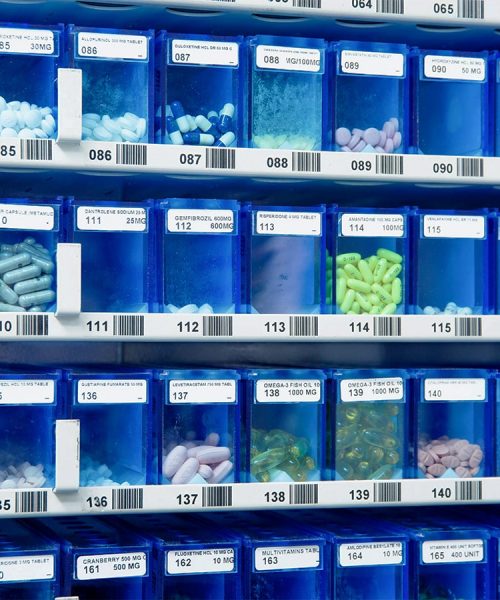 Specialized Packaging, Dispensing, & Barcode Technology
ClearSpring utilizes a SynMed® automated packaging robot to offer unit dose punch cards and multi-dose Dispill® packaging. This packaging separates medications by the time of day that they are to be administered. We are able to offer multiple dispensing options which include 7-day, 28-day, and monthly cycles. ClearSpring uses state-of-the-art barcode technology and computerized workflow technology to assure accurate medication services.
SynMed® ULTRA Medication Efficiency
We upgraded our robot and increased our capability to accurately fill medications. Our specialized adherence packaging helps clients remain on their required medications schedule. Our SynMed® ULTRA robot provides:
90 multi-dose cards/hour (7 Rx per patient)
Eliminates errors.
Compatible with 30+ blister card models.
No medication residue. 
ClearSpring's consultant pharmacists visit facilities as suggested by state regulation. These pharmacists will make written recommendations to physicians and nursing staff regarding suggestions and changes in drug therapies.
ClearSpring's compounding services help meet the specialized needs of patients requiring specialized medications with a broad-range of medications needs.
ClearSpring utilizes both its own delivery staff and contracted carriers to quickly and accurately deliver patient medications.
Medication Records (MAR's)
ClearSpring provides current MAR's and Physician Orders for all facility residents at no charge. ClearSpring works closely with our groups and patients to create records to fit the needs of each individual. ClearSpring's pharmacy systems interface with the most popular eMAR programs, including Therap®, where ClearSpring was a pioneer and worked closely with Therap® to assist them in developing their electronic eMAR interface and was one of the first pharmacies in the country to offer the Therap® interface.
Reach Out to Our Long-Term Care Facility
We are waiting for you with open arms! We make getting in contact
easy
. Simply fill out our form and select "Long-Term Care" as the location. We will receive your message and respond
in a prompt manner
! You can also call our facility directly. You friendly staff member will take your
call
and help provide any information requested. We hope to hear from you soon!